Allah Says: (surely, prayer is timely written upon the believers) [An –Nisa' -103], Prayer (Salah) is the backbone of Islam, the second pillar of Islam after declaration of faith, has a lot of spiritual, mental and physical benefits, above all its performance on time has additional benefits, first of all performance of Al- Salah on time is the best way for time management and getting rid of procrastination, delay and laziness which are causes of failure. Let me tell you the times of the five daily prayers.
Fajr ; we should pray from the true beginning of the twilight until before sunrise , if we concentrate for a moment we will find this time is the perfect time for starting work ,because our hormonal system starts shifting from the state of comfort and sleep to the energetic one, at this time your physical and mental abilities are maximal, so if you miss salat Al- Fajr, you'll lose many benefits, 'Aishah (May Allah be pleased with her ) reported : the prophet Muhammad (PBUH)said : (The two Rak'ah before the dawn (Fajr) prayer are better than this world and all it contains).
Zuhr ; we should pray Zuhr after sun zenith till before the time of Asr prayer ,at this period our bodies and brains are exhausted, so Allah Almighty ordered us to pray to get peace, power and tranquility.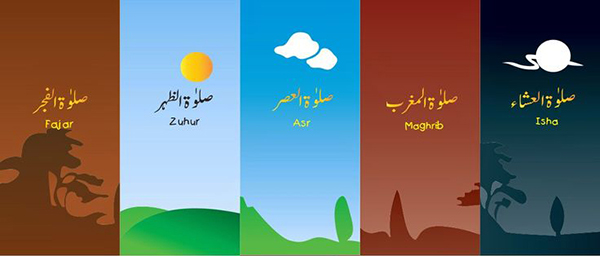 Asr ; there is no sharp border between the time of Zuhr and Asr, but we can say that we should pray Asr at the period between when the shadow of the person is double his real length and sunset.
Maghrib; pray Maghrib at the period between sunset and total disappearance of the red light from the western sky.
Isha';pray isha' after total disappearance of the red light from the western sky till before Fajr, but it's preferred to pray Isha' at the first third of the night.
About prayer times Allah Says: (Establish the prayer at the decline of the sun till the darkening of the night and the Koran recital at dawn. Surely, the Koran recital at dawn is witnessed). [Al –Isra' -78].
I should mention that no need for these complex optical marks nowadays, you can easily find the exact time for prayer declared according to your local time.
Athan Pro is an important app for Athan and accurate prayer times and helps you pray on time without delay. It's available on iPhone/iPad (Download Here) and on Google Play for Android system (Download Here). You can also check prayer times directly on our website: AthanPro.com
Allah Almighty sets these five daily stations to supply us with power and to clear our sins, why we ignore our duty and miss this opportunity! , Al – Salah literally clears our sins, Abu Hurairahu (May Allah be pleased with him) reported: I heard the Messenger of Allah(PBUH) saying : "Say, if there were a river at the door of one of you in which he takes a bath five times a day, would any soiling remain on him?" They replied, "No soiling would be left on him", He said: "That is the five (obligatory) Salah (prayers). Allah obliterates all sins as a result of performing them." [Al-Bukhari and Muslim].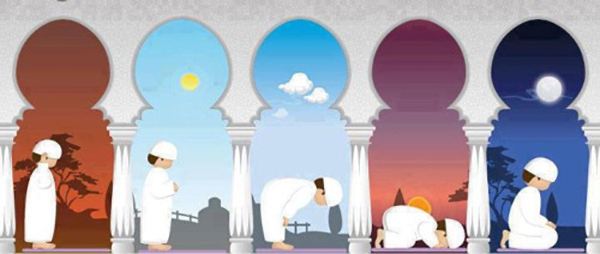 Al – Salah is the greatest Islamic duty and its performance on time is the most beloved thing to Allah as prophet Muhammad (PBUH) said.
It's a horrible sin to delay or ignore Al- Salah, so Allah Almighty warns us from that, He says : "Woe to those who pray, who are heedless of their prayers (delaying them from their prescribed times)". [Al-Ma'un -4,5] , and He also says : (But the generation that succeeded them wasted their prayers and followed their desires, so they shall encounter error, except he who repents and believes and does good works; those shall be admitted to Paradise and shall not be wronged in any way) [Maryam – 59,60].
It isn't too late to correct your mistakes, repentance doors are always opened, just make your decision now and don't delay the prayer. Decide now and choose your destiny.
Salat Learning app is a very helpful guide designed for all ages to perform Salat in a perfect way. It's available on iPhone/iPad (Download Here) and on Google Play for Android system (Download Here).